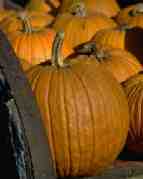 Looking for a local pumpkin patch, maize maze, hayride, gourds and other Halloween activities in Southwest England (Avon, Dorset, Somerset, Wiltshire)? Scroll down this page and you will see the all of thoses in Southwest England (Avon, Dorset, Somerset, Wiltshire), sorted by county. Some are farms, where you take a hay ride out into the field, others are elaborate farm stands with mountains of pumpkins and other activities and some are simple roadside stands. Most have loads of pumpkins to choose from. To really make it fun for your kids, look for those that have the extra activities, like a maize maze, spook house, or hayride. There is usually a small fee for the mazes (of course, the more elaborate mazes tend to charge more. Hayrides are often free. ALWAYS call before you go to confirm the info, they don't always report changes to me!
And if you know of one I missed and want to add it or correct the information, please let me know! If you are looking for pumpkin weigh-offs and the US and world's largest pumpkins, see this page! Want to do a fundraiser selling pumpkins? See this page! There are affiliate links on this page. Read our disclosure policy to learn more.
Updates for November 2022
Most pumpkin patches and maize mazes usually open by late August, some earlier! Maize mazes usually open in July. You may also want to try the latest fun, Zombie Paintball, see this website!. The world's best pumpkin pie recipe is here. You will find a local Christmas tree farm on this page. If you have any questions or suggestions, feel free to write me!
Pumpkin Patch Listings, by county
Click on Resources above, if you need a county map
Avon
Avon Valley Adventure & Wildlife Park - pumpkin patch-pick in the field where they grow, Maize Maze, Outdoor Adventure Play Area, The Big Red, Indoor Play Barn, Pre-school Play Areas, Sand Pit Area, Train & Tractor Rides, Quad Bikes, Pedal Go Karts, Crazy Golf, Boating & Fishing, Gift Shop
Pixash Lane, Bath Road, Keynsham, Bristol, BS31 1TP. Phone: (0117) 986 4929. Email:

[email protected]

. Open: We are open all year round, but the Maize Maze is July to September; 10am to 5.30pm daily (6pm in the summer); Our Massive Pumpkin Patch Festival will return for weekends and half term in October, 11am to 4pm; and on 1st November.The Play Barn closes half hour before closing time for cleaning and maintenance; PLEASE NOTE: The park we will be closed Mondays except during (Bristol & BANES) Bank Holidays and School Holidays; Open ALL WEEK long during School holidays. Join us this Summer with so much to do, including; our Riverside Walk where you can meet an array of animals from Rhea to Shire Horses, have fun in our indoor and outdoor play, too. Our staff have a day packed full of animal handling activities so join us for a day of fun and adventure, whatever the weather! We have: The Village, Paddleboarding, Battle Archery, Segway 4x4, Our Animals (Rare & Exotic), Pets Corner & Animal Magic, Falconry Displays, Riverside Experience, Maize Maze, Outdoor Adventure Play Area, The Big Red, Indoor Play Barn, Pre-school Play Areas, Sand Pit Area, Train & Tractor Rides, Quad Bikes, Pedal Go Karts, Crazy Golf, Boating & Fishing, Gift Shop. Click here for a link to our Facebook page. (UPDATED: 16 October 2020 JBS) (UPDATED: October 10, 2016)
UPDATE for 2021: I don't see ANYTHING on their website about about a maize maze this year, but they have done it in the past.

Farrington's Farm Shop - pumpkins, farmshop
Farrington Gurney, Bristol, BS39 6UB. Phone: 01761 452266. Email:

[email protected]

. Open: Farm shop Monday to Friday 9am - 6pm, Sat 8am- 6pm, Sun 9am - 4pm; CAFE Mon-Sat 9 am to 4pm, Sun 9 am to 3pm, COWTASTIC FARM PARK All week: 10am - 4pm. We always have lots going on here at Farrington's Farm. Whether it be our pick your own sunflower field in summer or our pumpkin picking event at our pumpkin patch in October, there are always things to do. Alongside tens of organic crops, we have also planted over 40,000 pumpkin seeds ready for our annual pumpkin festival which will take place in October. We have planted an array of different varieties including our most popular white ghost pumpkins. (ADDED: 16 October 2020, JBS)
Dorset
Cat and Fiddle Farm and Café - pumpkins
Lyndhurst Road, Hinton, Christchurch BH23 7DS. Phone: 01425 672451. Alternate phone: 07587 633111. Email:

[email protected]

. Open: late every Thursday throughout October for pumpkin picking, from 10am, Last picking 7pm, gates close at 7.30pm We grow a wide variety of tasty fruit and vegetables. Pick your own or pop into the farm shop for a ready picked selection and enjoy tea, cake, ice cream and more in the café. No need to book - No dogs on the field In 2020, pumpkins are priced at 60p per kg. They have parking, toilets, a picnic area, farm shop and cafe. Some of the fruit and veg are grown for Pick Your Own, and some for selling ready picked through our farm shop and at Farmers Markets across the South of England. Directions: Hinton on the A35 Lyndhurst Road, 2 miles from Christchurch. It really is a great day out and both fun and educational for the children. We do not charge an entrance fee, you just pay for what you pick. Payment: Cash, credit cards, debit cards. There are wheelbarrows and sledges to help pickers transport their pumpkins. (UPDATED: 7 October 2020 JBS)
Dorset Country Pumpkins -
Milton Abbas, Blandford Forum DT11 0BB. Email:

[email protected]

. Open: no booking is required and there is no charge for parking or entry. Pumpkins are priced according to size. Don't forget to visit the Craft Fair (Saturday 15th & Sunday 16th) in the old barn. Plus we've a display of modern and vintage tractors, plus the farm animal area. 'Dorset Lamb' will be returning to sell hot food and drinks every day together with a number of other refreshment vendors.
Additionally Dorset Lamb will be returning to sell hot food and drinks every day together with a number of other refreshment vendors. Directions: around a 40-minute drive away from Salisbury. Dorset Country Pumpkins facebook page.
Halloween Maize Maze at The Toy Barn - pumpkin patch- harvested and laid out on the ground or lawn, corn maze, Fresh eggs, gift shop, porta-potties, picnic area, picnic area (bring your own food), pedal kart track, birthday parties, weddings and wedding parties, school tours, group reservations
Blackmarsh Farm, Sherborne, DT9 4JX. Phone: 01935815040. Email:

[email protected]

. Open: Click here for current open hours, days and dates. Directions: The Toy Barn, Blackmarsh Farm, Sherborne, Dorset DT9 4JX UK. Click here for a map and directions. Payment: Cash, Debit cards, Visa/MasterCard. Click here for our Facebook page. ome for a Halloween outing and explore our giant Maize Maze. Each person will be able to take away a pumpkin as long as they can find the Pumpkin Patch hidden in the maze! There is also a Spider Turret and a Bat Bridge to discover and information sheets to complete about various bugs and insects. Getting lost has never been so much fun! Once you've explored the huge maze, your children can have fun on our play equipment or try their luck around the track on our famous pedal-powered go karts. It's an AMAZING day out for the whole family. (ADDED: October 22, 2019)
Lenctenbury Farm - pumpkins, pumpkin patch- in the field,
Soldiers Road Norden, Corfe Castle, BH20 5DU. Phone: 07798743877. Email:

[email protected]

. Open: Every day 10am to 5pm while fruit is in season, usually June to October, daily from 12th October 10:00-17:00 for pumpkin picking in the field plus in the barn there will be ready picked pumpkins, squash and gourds for eating and decorating use.. Click here for current open hours, days and dates. Directions: The farm is just off the A351 between Wareham and Corfe Castle. Turn opposite The Halfway Inn and the gate is 150 metres on the left. Postcode BH20 5DU. We are opposite The Halfway Inn on the A351 between Wareham and Corfe Castle.Payment: Cash, credit cards. Click here for our Facebook page. PYO Pumpkins are priced by the weight and will be 90p per kg (2020 price). There will be sledges available for the children (and adults) to drag their pumpkins from the field back to the barn and these will be disinfected between every use. Please come during the week if you can as it is likely to be busy at weekends. Maximum group size is 6 unless everyone is from the same family and we will be limiting the number of groups in the field at one time so there is the potential that customers will have to wait until there is space to go at busy times (weekends). Parking is available right next to the barn and it is 90 metres walk to the pumpkin field. No dogs allowed in the picking fields. Strawberries are usually in season from late June to August. Raspberries are usually in season during July and August. Blueberries are usually in season from early July until the end of August or early September depending on the weather. (UPDATED: 7 October 2020 JBS)) (UPDATED: August 05, 2015)
Somerset
Barleymow's Maize Maze - cornfield maze
Barleymow's Farm Shop & Restaurant, Snowdon Hill Farm, Chard, Somerset TA20 3PS. Phone: 01460 62130. Email:

[email protected]

. Directions: Barleymow's is easy to find, directly off the A30 half a mile west of Chard, we have ample free, level parking with a spacious shop and restaurant that is wheelchair and pushchair friendly. The patio and garden enjoy fantastic views and a children's play area. During the summer school holidays our Maize Maze and Outdoor Activity Field is open (entrance fee applies). Look out for our tempting ice-cream shack during the warmer weather and Phil the Fish is resident in his Fish Shack every Friday all year round. Barleymow's also has a campsite complete with breathtaking views and electric hook ups and toilets too! The site is open from Easter through to the Autumn (weather permitting). Well behaved dogs are welcome and visitors can enjoy our children's play area.
Court Farm Country Park - cornfield maze, farm animals, playgrounds, tractor rides, birthday parties
Court Farm Country Park, WolvershillRoad, Banwell, near Weston-Super-Mare, Somerset, BS29 6DL. Phone: 01934 822383. Email:

[email protected]

. Open: end of July, phone for details. This year we hope to build a giant Viewing platform right in the centre of the maze. The maze opens in time for the summer hols when it is around 8 foot tall - it really is like walking into a tropical rainforest. Now into our 25th year as a family run farm attraction, all the animals and staff at Court Farm are looking forward to welcoming hoards of children and their families for a fun packed summer of fun. We have Indoor Play Barns, Outdoor Play, The Animal Barn, Free Tractor Rides, Maize Maze, Safari Jeep, Ride on Tractors, Sandpits, Bale Mountain, Beautiful Scenery, Carp Fishing. Birthday Parties - Yes mums - instead of a house full of screaming kids, bring them to the farm and be a bit less stressed. We will provide chairs, tables and tablecloths and the venue- you provide the party food. Go on Safari: Travel around the farm in style ! A firm favourite with younger kids. Its also a good chance to chat with Farmers Ed and Peter as they drive you around the farm.
Punkie Night in Hinton St George - event
Town Centre, Hinton St. George, Somerset. Open: on the last Thursday in October. The town has a tradition of pumpkin carving and night-time walk called Punkie Night. Children carry "punkies" (lanterns which are traditionally carved from a large turnip - Baldrick would be pleased - known as a mangel-wurzel - and stop on their walk to sing the Punkie Song.
Punkie Song:
It's Punkie Night tonight!
It's Punkie Night tonight!
Adam and Eve would not believe
It's Punkie Night tonight!
Give me a candle
Give me a light
If you haven't got a candle
A penny's all right.
Pumpkin Picking Patch Bath - pumpkins
The Globe Roundabout, A4, Bath BA2 9BB. Email:

[email protected]

. Open: CLOSED in 2022, Free entry and free parking. Entry is FREE and you'll find over 55,000 pumpkins in every shape and size across our huge 13 acre site. Let your creative talents run wild with our crafts and fill up with seasonal food and drink. There's loads to do besides picking pumpkins! You can go on a hunt for Toad, and check out the straw bale sculptures and our famous pumpkin house! Plus there's a host of fun patch games to play. There are a range of interesting crafts available. Enjoy a chance to make your own witch's broom - not for brushing but definitely for flying - or try your hand at crafting your own magic wand! Click here for our Facebook page. (ADDED: 9 October 2020, JBS)
The Great Western Maze - cornfield maze
Newton St. Loe, Bath, Bath & N. E. Somerset, Phone: 0775 870728. Open: Check website for dates (usually open during August). Their website is down, so they may have closed permanently.
Wiltshire
Ansty PYO & Farm Shop - pumpkins, Autumn raspberries, strawberries, gooseberries, raspberries, tayberries, loganberries, blackcurrants, red currants, blackberries, Christmas trees
Ansty, Salisbury, Wiltshire, UK SP3 5PX. Phone/Fax 01747 829072. Email:

[email protected]

. Open: We have seasonal opening times, so before you head out, please phone to check when we are open, throughout October for the sale of our home grown pumpkins and squash. Click here for updated times. Directions: Find us on the A30, 6 miles East of Shaftesbury, Dorset, or 10 miles West of Wilton, Wiltshire. Click here for the map for Ansty PYO and Farm Shop. For those not wishing to pick from our pumpkin field we have the pumpkin trailers bursting with colourful pumpkins of all shapes and sizes all ready pre picked outside of the Farm Shop. You can simply turn up and choose from our great selection of ready picked pumpkins or squash without booking. Freshly baked multi award winning breads, cakes & puddings. Seasonal berries. Pumpkin games and trail will be open on the weekends following and half-term. To book a time slot phone the farm on 01747 829072.
We now grow a wide variety of fruit and vegetables for Pick Your Own or selecting freshly picked in the farm shop. But over the years we have expanded and now have a busy Farm Shop, stocked full of home grown and locally produced goods. We also have a Tea Room where you can relax over a cup of Tea and Homemade Cake whilst taking in the beauty of the Countryside around you! If that's not enough we also make a Maize Maze for the Summer Holidays and a hilarious Pumpkin Event for the Half Term Period in October. Freshly cut locally grown Christmas Trees, home made Christmas Wreaths, Holly and Mistletoe. The Christmas session is another hectic time at Ansty PYO and Farm Shop! The outside of the shop suddenly turns into a big Christmas Tree forest, with freshly cut locally grown Christmas trees. Why not avoid disappointment and pre-order the size you would like so we can guarantee your tree will be fresh when you would like it. We also make Christmas wreaths and have fresh local holly and mistletoe and Christmas cakes, puddings and mince pies. Make Christmas easy and do most of your shopping under one roof!! (UPDATED: May 14, 2019, JBS)
Braydon Maize Maze - Maize maze (corn maze), picnic area, porta potties
Braydon Manor, Braydon, Swindon, Wiltshire SN5 0AG. Phone: 01666 800 001. Email:

[email protected]

. Open: from late July,
Monday to Friday: 10am - 7pm; Saturday & Sunday: 10am - 6pm; Late night openings on certain dates. A family run maize maze is a great day out for all ages, come and see what awaits you all in our a-maze-ing maize maze! Payment: cash, cheque, Visa, VPay, MasterCard & Maestro. Picnics & Refreshments: Come and relax after your day of hunting through the maze at our picnic area. With plenty of room, and a small refreshment shop offering soft drinks, sweets, chocolate, ice cream and cakes, you'll be spoilt for choice!
Parson's Pumpkin Patch - pumpkin patch-pick in the field where they grow,
Upper Farm, Milston, SP4 8HR. Phone: 44 1980 632868. Email:

[email protected]

. Open: October, a pre-ticketed event, weekends This is a small, family-run 'Pumpkin Patch' on a livestock & arable farm near Bulford, Wiltshire. Head to the field to choose & pick your own pumpkins. Pick your own pumpkins from 'Parsons Pumpkin Patch. Payment: Cash or credit cards, debit cards. Directions: it is about 20-25 minutes to get there from Salisbury, north of Amesbury. 2022 is their third year as a PYO Pumpkin Patch on a family farm in Bulford, near Durrington, Wiltshire. Come and join us, it's a great experience for families, young and old! Select from an abundance of different shape and size pumpkins to take home to carve/decorate or just cook! One Family Ticket per car is required (permits up to 5), once on the pumpkin patch, you can purchase as many as you wish. The ticket price (£5.98) includes a £5 voucher to redeem against a pumpkin/s of your choice, parking and a small admin fee. 1 hour sessions will be running on the above weekends. Please ensure you arrive and depart within your 1 hour time slot. You can arrive anytime within your time slot but MUST leave the field before the end of time, to allow us to empty the car park before the next slot. Keep up-to-date via Parson's Pumpkin Patch Facebook page, you can also take a peek at our heartwarming reviews on there. (ADDED: 5 October 2022, JBS)