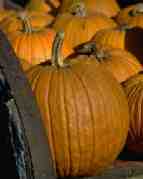 Looking for a local pumpkin patch, maize maze, hayride, gourds and other Halloween activities in the Republic of Ireland? Scroll down this page and you will see the all of thoses in the Republic of Ireland, sorted by county. Some are farms, where you take a hay ride out into the field, others are elaborate farm stands with mountains of pumpkins and other activities and some are simple roadside stands. Most have loads of pumpkins to choose from. To really make it fun for your kids, look for those that have the extra activities, like a maize maze, spook house, or hayride. There is usually a small fee for the mazes (of course, the more elaborate mazes tend to charge more. Hayrides are often free. ALWAYS call before you go to confirm the info, they don't always report changes to me!
And if you know of one I missed and want to add it or correct the information, please let me know! If you are looking for pumpkin weigh-offs and the US and world's largest pumpkins, see this page! Want to do a fundraiser selling pumpkins? See this page! There are affiliate links on this page. Read our disclosure policy to learn more.
Updates for June 2023
Most pumpkin patches and maize mazes usually open by late August, some earlier! Maize mazes usually open in July. You may also want to try the latest fun, Zombie Paintball, see this website!. The world's best pumpkin pie recipe is here. You will find a local Christmas tree farm on this page. If you have any questions or suggestions, feel free to write me!
Pumpkin Patch Listings, by county
Click on Resources above, if you need a county map
Co. Down
Co. Carlow
Co. Cavan
Co. Clare
Co. Cork
The Farm Grenagh - pumpkins, farm animals,
Co Cork, Cork Ireland . Phone: 021 4629816. Open: October 26 to October 31, 2019. Help the Good Witch, Esmeralda, get ready her tricks & treats ready for Halloween. Visit the Pumpkin Patch on the farm and choose the Pumpkin that's just right for you. The children will help the Good Witch, Esmeralda, to practice her spells for Halloween and make some sweet treats to take home. There are lots of pumpkins to choose from hidden in the on the farm. Choose the one that is just right for you and the witches will carve it with you. Just some more of the Pumpkin Patch activities for 2019 are:
Pumpkin Carving
Musical Pumpkin Pass
Broom Race for the Adults
Witches Brew Scavenger Hunt
Storytelling & Colouring
Book now! Directions: click here for a map and directions.

Co. Derry
Co. Donegal
Ashtree Garden Centre Annual Pumpkin Festival - pumpkins
Ashtree Garden Centre, Drumstevlin, Donegal Town, Donegal, Donegal, Ireland. Phone: 353 74 972 2303. Open: October 26 to October 29 in 2019, bookings required. *TIME TO BOOK YOUR PLACE* for our Pumpkin Festival. Hourly slots available from 12 pm on Saturday 26th, Monday 28th and Tuesday 29th October 2019. Pick and carve your pumpkins. Enjoy some pumpkin themed games. Create your own spooky art and craftwork. Treat yourself to a halloween snack. No entry fee but booking is essential. Pumpkins are priced by size. Click here for a link to the Facebook page.

Co. Dublin
Scalp Wood Nurseries - pumpkins
Enniskerry Road, Kilternan, Dublin, Ireland D18 P9P7. Phone: 353 1 295 4636. Open: October weekends, see their website for current dates and hours. It is an annual Pumpkin Festival! Children can pick their own pumpkin for a small charge. Whatever the weather you are sure to enjoy yourself. We have a polytunnel and large Marquee complete with lots of activities to keep your little ones busy including blackboards, little tables and chairs with crayons to colour Spookley prints. Outside there is a Spookley maze. As Spookley only provides a friendly Halloween experience we have something a little scarier available for the only children in our Haunted Witches room.
Co. Galway
Galway Pumpkin Patch - pumpkins
Castletaylor, Ardrahan, Galway, Ireland H91 V2P5. Email:

[email protected]

. Open: 2019 dates, Friday 18th October 12-5 pm, Saturday 19th October 10-5 pm, Sunday 20th October 10-5 pm and Saturday 26th October 12-5 pm, Sunday 27th October 10-5 pm, Monday 28th October 10-5 pm. Tickets for Galway Pumpkin Patch 2019 are now on sale at www.galwaypumpkinpatch.ie. Please tag and share ☺️ All family tickets entitle you to one free pumpkin. Please book the correct date and time slot as they are not changeable. Splitting family tickets is not allowed - the ticket you hold must correspond to the people in the car which you arrive. Looking forward to welcoming you over the Halloween season.
Keanes Garden Centre - Annual pumpkin festival
Kilcolgan, Galway, Ireland H91 NCF4. Phone: 353 91 796 660. Email:

[email protected]

.. Open: There's nothing on their website nor Facebook page as of early October, but it is said to be held annually. Annual pumpkin festival this bank holiday weekend in Keanes Garden Centre. Including 'pick your own pumpkin' from our pumkin farm, pumpkin carving, tricks and treats. Click here for a link to the Facebook page.
The Friendly Farmer - pumpkins
Knockbrack, Athenry, Ireland HE5ED39. Phone: 353 91 442 695. Email:

[email protected]

. Open: See their website. Pick Your Own Pumpkins From: €4.00. Start the Halloween Season off by visiting our farm and selecting from the thousands of pumpkins on our pumpkin patch. A great experience for adults and children alike. Say hello to our Famous Turkeys and all the other animals on our Friendly Farm. Everyone picks & goes home with their pumpkin, even Mammy and Daddy! Entry fees covers the cost of one pumpkin per person. Pick any one you like! Everyone gets to meet all the animals on the friendly farm (including our famous Christmas Turkeys)
Co. Kerry
Co. Kildare
Co. Kilkenny
Nore Valley Park - pumpkins
Annamult,Bennettsbridge, Kilkenny, Ireland. Phone: 056 772 7747. Email:

[email protected]

. Open: 1 March - 31 October. Directions: N 52.56295 W 07.19497. Choose to come to Nore Valley Park for Halloween and enjoy a family day of fun! This Halloween season you can pick your own pumpkin from our pumpkin patch as part of normal farm entry; we are offering one free pumpkin per family. Get creative and carve your pumpkin on the farm, or you take it home with you! Just turn up to our Reception during pumpkin picking season to enjoy all the fun of the farm, with the added bonus of picking lovely locally grown pumpkins! On specific evenings we have our popular annual Halloween Torchlight Treasure Hunt, scare maze (TBC), and bonfire with toasted marshmallows! These activities must be booked online and are only available on Monday 28 October - Thursday 31 October 2018, starting from 7 pm each evening. For pumpkin picking or Halloween enquiries please call 056 772 7747. Campers who are staying on our campsite over the bank holiday weekend are invited to attend our exclusive Campers Halloween Event on Saturday 26 October - there is no need to book online if you are camping, and day visitors should not attend on the Saturday. For all camping enquires please call 056 772 7229.

The Folly, Guest House - pumpkins
OuOutrath, Kilkenny, Ireland R95 RYC8. Phone: 353 56 772 2607. Email:

[email protected]

. Open: mid-October through Halloween, 7 days per week, from 11 am to 6 pm. Wellies advised. No bookings nessary. .
For group/school bookings please message directly.
Co. Laois
Co. Leitrim
Co. Limerick
Curraghchase Garden Centre - pumpkin patch, corn maze
KiKilcornan, Co. Limerick. V94 YO18. Phone: 087 922 4899. Email:

[email protected]

.. Open: 18th October to 26th October from 9 am to 6 pm; and : 27th October to 31st October from 9 am to 5 pm. Walk through the pumpkin patch and pick your perfect pumpkin to carve for all to admire. Finding your way through the corn maze and then taking your picture while dancing around the Halloween globe with your face painted to send to all the family. A day you will all remember for years to come. Pick your own pumpkin from the actual Pumpkin Patch. Pumpkins start from 5 euro and you can chose from lots of different varieties and colours. Design and carve your pumpkin using utensils provided. Master carvers are on hand if you need a bit of help. Visit our storytelling tent and meet Spookly the square pumpkin and his friends. For those a little braver we have Curraghchase House Spooky tunnel.. Find your way through our new corn maze. Halloween Globe - play inside and receive a photo in a Curraghchase Pumpkin Patch frame - all for 10 euro for up to 5 people. Relax with a tea/coffee and treats from the Coffee ShopAdmission cost includes your Park and ride, Entrance to the pumpkin patch and corn maze, Use of utensils for carving, Storytelling and for those a little braver the Curraghchase House Spooky Tunnel. Pumpkins are separate. Please arrive 15min before your allotted booking time (not before) and follow the signs and stewards directions for parking. PARKING is at Kilcornan House Pub car park, located on the N69 in Kilcornan V94 A3E5 and a park and ride system is in place
Co. Longford
Co. Louth
Co. Mayo
Co. Meath
Alright Pumpkin - pumpkins
Girley, Fordstown Co. Meath C15 D8EH. Phone: 353 87 291 2492. Email:

[email protected]

. Open: every weekend (Saturday and Sunday 11-4) in October. There is no need to book, just come along! Pumpkins start at 5 euros and go up based on size. We grow all our own pumpkins! Pick your own pumpkin from the farm at Alright Pumpkin! We grow all our own pumpkins and we have lots of different sizes, shapes and colours! Make your way through the magical maze to find our patch, and see our busy bees working hard from their hives. Click here for a link to the Facebook page. (ADDED: October 04, 2019, JBS)
Kennedy's Pumpkin Patch - pumpkins
Kennedy's Yard, Shallon, Julianstown, Co. Meath, Ireland. Email:

[email protected]

. Open: UPDATE for 2019, Their Facebook page is gone; and their website hasn't been updated since 2018. Does anyone have current information, are they still open? If so, please write me. Directions: Kennedy's Pumpkin Patch is located in beautiful east Meath, between the villages of Julianstown and Duleek. From the M1 take Exit 7. Latitude: 53.671377 Longitude: -6.331194 Eircode: A92 R253. There's something at the pumpkin patch for every age group and we offer a fun filled few hours for the family. Whether its our spooky tunnel, hay maze, face-painting, storytelling, pumpkin picking or simply relaxing in the autumn sunshine with our homemade non-alcoholic apple cider, you're sure to enjoy yourself!
Ladyrath Lane - pumpkin patch
WiWilkinstown, Meath, Ireland C15 Y018. Phone: 353 85 175 1310. Email:

[email protected]

.. Open: 2019 event runs on these dates 19, 20, 26, 27, 28, 29, 30 October, tickets costs €13.95 per child and adults are free. Their main event each year is the Ladyrath Lane Pumpkin Patch. This event has sold out year on year and is truly a fantastic family day out and one not to be missed. each year we keep expanding and this year is no exception.we extended car park facilities,more outdoor seating area and much more activities for the children to enjoy.this year we have a dedicated area for bouncy castles and inflatable obstacle courses,a fantastic playground,massive family maze(new for this year) pumpkin picking and carving,face painting and maybe a few extra surprises!! tickets go on sale August 4th 2019 do not miss out on this event as every year it sells out

Co. Monaghan
Co. Offaly
Co. Roscommon
Co. Sligo
Co. Tipperary
Co. Waterford
Co. Westmeath
Co. Wexford
Ballycross Apple Farm - pumpkins, apples
Bridgetown, Co. Wexford, Ireland. Phone: 353 (0)53 913 5160. Email:

[email protected]

. Open: every Saturday and Sunday from 12 pm to 6 pm; throughout Mid-term 26th October to 3rd November from 12 pm to 6 pm daily. Ballycross comes alive at Halloween and we are delighted to let you know that Pumpkin Picking will commence from the 5th October. Each weekend from now until Halloween you can enjoy pumpkin picking trips out to our pumpkin patch on our tractor and trailer. This one of a kind experience allows you to pick your unique pumpkin to buy and take home for carving just in time for Halloween and while there you can take a walk through our Witches Village and meet the resident Ballycross Witch! In early Autumn we commence our Apple Picking Trips which are hugely popular. Join us for a family day out, take a ride on our tractor and pick your own apples from our orchards. No need to book, just visit the farm between 12 pm to 6 pm and don't forget to pack your wellies! Directions: Ballycross Apple Farm is located just outside Bridgetown village close to Kilmore Quay. From Wexford town: Take the main road heading to Rosslare and take the exit for Kilmore/Kilmore Quay. On approaching Kilmore village you will see a graveyard on your right hand side, take the right turn immediately after the graveyard. As you turn, Kilmore national school will be on your left. Follow this road to Bridgetown village, you will pass Bridgetown Vocational school on your right . then take the next left once you have passed the school. Follow the road and on your right you will see a wide entrance to Ballycross Apple Farm . Follow the avenue down to the yard .
(ADDED: October 04, 2019, JBS)
Co. Wicklow
Tinahely Farm - pumpkins
TiTinahely, County Wicklow Y14 V386 Ireland. Phone: 353 87 816-8457. Email:

[email protected]

.. Open: Pumpkin Picking 25th October 2019 to 28 Otcober 2019, bookings required. Come to Tinahely Farm and take the tractor and trailer to collect your own pumpkin from the field, Then come back to the Activity Barn and get your hot chocolate and enjoy indoor Halloween activities. Available times on Friday 25th October are 2.30 pm and 3.00 pm. €15.00 per child and no charge for adults. All participants get to use our brand new Activity Barn all day! Booking essential - call Philip on 087 816 8457 …