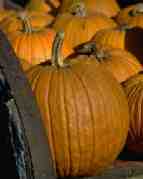 >Pumpkins for Weddings and Parties
Pumpkins for Weddings, Receptions and Parties!
If you are looking for pumpkins for your wedding or a party, this page should help you select and find the right pumpkins.
When - First,

when

you need them is critical. Pumpkins usually take about 100 to 125 days to grow, and are only a warm weather crop. This means, in the northern hemisphere, they are only available from August to November, although sometimes you can find some early ones in July and late ones in a grocery store in December. So, if your wedding is in June, you will need to consider artificial pumpkins (which can look and feel very realistic. See this page!)
What Type - Next, which variety, color, size, and type do you want? Flattened ribbed Cinderella carriage types? Giant round orange pumpkins? Baseball sized hard pumpkins? White, smooth basketball sized? See this page to pick the variety.
Where - Finally where to get them? Let's take this last step in detail:
Where to get pumpkins for weddings:
In a hurry? Obviously the fastest method is online, overnight delivery; see this page for many, many choices
Local farms - Your best option is to find a local farm that grows pumpkins. You can click here to search in your area.
Local farm stands and farm markets - Click here, find the page for your area, then scroll to the bottom of the page for farm markets
Big Box stores - Kmart, Lowes, Home Depot, Wal-Mart and other big box stores usually have a large supply of ordinary pumpkins in September and October.

Call your local county extension agent

- Your local county extension agent should know more about local farms than anyone. And if they don't know perhaps they can direct you to someone local, who would. See this page: https://www.pickyourown.org/countyextensionagentoffices.htm to find your local county agent.
Grow your own - As noted above, if you are outside of August through November, finding real pumpkins can be completely impossible. If you live in the South of the US or another warm area; there are varieties you can plant as early as the last date of frost (April in warm areas) and have pumpkins of your own by July, especially if you start the seeds indoors in March. This page has more information about growing your own pumpkins. But that may not be practical if you live in a townhouse, condo or apartment.
Have your wedding or reception at a farm, pumpkin patch or corn maze - A number of farms rent out a building or country barn weddings and other gatherings, often from April through mid-November, some year round. They offer a picturesque setting for formal or casual. Some have a corn maze for reception party fun. Most have hay rides, farm animals, and more activities. You can click here to search in your area.
See this page for an example of a wedding at a pumpkin patch.
Decorating and Style tips:
There are many ways you can use pumpkins or a Fall harvest theme in your wedding!
name card holders
wine cooler
punch bowl
table centerpiece
flower vase
See these pages to get more ideas:
---
Halloween Costumes
Here are some of the most popular Halloween costumes for children this year. For more choices, see our Halloween costumes pages.
Find Related Information and Resources Here!