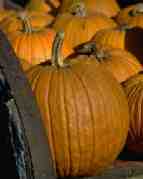 Looking for a local pumpkin patch, corn maze, hayride, gourds and other Halloween activities in northwest Illinois? Scroll down this page and you will see the all of those in northwest Illinois, sorted by county. Some are farms, where you take a hay ride out into the field, others are elaborate farm stands with mountains of pumpkins and other activities and some are simple roadside stands. Most have loads of pumpkins to choose from. To really make it fun for your kids, look for those that have the extra activities, like a corn maze, spook house, or hayride. There is usually a small fee for the mazes (of course, the more elaborate mazes tend to charge more. Hayrides are often free. ALWAYS call before you go to confirm the info, they don't always report changes to me!
And if you know of one I missed and want to add it or correct the information, please let me know! If you are looking for pumpkin weigh-offs and the US and world's largest pumpkins, see this page! Want to do a fundraiser selling pumpkins? See this page! There are affiliate links on this page. Read our disclosure policy to learn more.
New for this year, see our Top Ten list of best pumpkins to make pumpkin pies and for baking and cooking. Also, our Master List of 100 Varieties of Pumpkins for every purpose. Then see this page for our easy pumpkin pie from a real pumpkin recipe.
Updates for December 2021
Most pumpkin patches and corn mazes usually open by mid September, some earlier! You may also like a local zombie event or Zombie Paintball!. The world's best pumpkin pie recipe is here, and the pie crust recipe is here! And we have home canning, preserving, drying and freezing directions. You can access many pumpkin and other recipes and other resources from the drop down menus at the top of the page or the site search.
Keep in mind, many farms, pumpkin patches, corn mazes and Haunted Houses are trying to cope with rapidly changing state COVID requirements: ALWAYS see their own website, Facebook page or call them before you go.
NOTE: Many of the farms are dropping their websites and switching to Facebook pages - but they don't tell anyone, including search engines like Google, Bing, Yahoo or us, or redirect their website, thus breaking all links to them. If a link is broken please click the "click here to report a broken link or blank page" so we can find the replacement link! Thanks!
After Halloween, find a Christmas tree at a local Christmas tree farm (and enjoy a bonfire, smore, hot chocolate and free hayrides, and often Santa visits! And next Spring, you'll want to take your children to a free Easter egg hunt - see our companion website to find a local Easter Egg hunt. If you have any questions or suggestions, feel free to write me!
Pumpkin Patch Listings, by county
Click on Resources above, if you need a county map
Bureau County
Bureau Creek Orchard

- Apples, red raspberries, pumpkins
14180 1800 East St, Princeton, Illinois 61356. Phone: (815)875-6137. Open: 9 am to 6:30 pm daily from August 25 to November. Restrooms on site. Just opened this year in August.
Carroll County
Henry County
Country Corner - pumpkins, pumpkin patch-pick in the field, pumpkin patch- already gathered from the field, train rides, corn maze, haunted corn maze, straw or hay bale maze, child-sized haybale maze, corn cannon, horse-drawn hay rides, tractor-pulled hay rides, prepicked produce, gift shop, snacks and refreshment stand, restrooms, picnic area, pony rides, petting zoo, farm animals, birthday parties, school tours, events at your location (call for info)
5333 U. S. highway 150, Alpha, IL 61413. Phone: 309-629-2359. Fax: 3096292359. Email:

[email protected]

. Directions: Halfway between the Illinois Quad Cities and Galesburg, IL. on U.S. highway 150, two miles North of Alpha, IL. Just twenty minutes from the Quad City Airport. And for a map to our farm, click here. Crops are usually available in May, June, July, August, September, October. Open: Farm Market Monday to Saturday, 9:00am to 7:00pm Sunday 10:00am to 6:00pm May 1st; through October 31st Fall Fun Park open on weekend's starting September 13th through October 31st; 11:00am to 7:00pm. Strawberries available mid May to mid June U-Pick Vegetables by appointment July to October U-Pick Raspberries mid July to Mid September U-Pick Pumpkins September 1st to October 31st Corn Maze Open daily late July to October 31st Flashlight Maze by appointment September 1st to October 31st Haunted Maze Friday and Saturday 7pm to 11pm in October Payment: Cash, Check, Visa/MasterCard, Discover. U-Pick Hayrack Rides to the Vegetable Garden, Sweet Corn, Indian Corn, Gourd Patch and Pumpkin Patch New this Fall, Featuring our own Corn Cannon, Cow Train, Mini Corn Shock Maze and Mining For Gems along with Special events every weekend starting September 13th.
A visitor writes on October 08, 2010: "I really like it - it's about 20 min from Galesburg 30 from Quad Cities. (They have)
petting zoo, corn maze, jump park. hay rack rides, corn cannon, and much more. Pumpkin patch and fresh veggies!!!"
A visitor writes on October 26, 2009: "We liked it and plan to go every fall, it is 20 minutes from Galesburg IL Knox county."
Jo Daviess County
Lee County
Mercer County
Country Corner - pumpkin patch, corn maze, hay rides, much more
Rt 150, Alpha, IL. Phone: (309) 629-2359. Email:

[email protected]

. Open: April through October, Every Day: Monday to Saturday from 9 am to 6 pm and Sunday from 10 am to 5 pm. Directions: Click here for directions. Payment: credit cards, cash, check. Restrooms, Picnic area, crops CC accepted, Petting zoo, u-pick strawberries, raspberries. Fall festival: Haunted corn maze, Kid friendly corn maze, bounce houses, hay rack rides,concessions and much much more!Country Corner grows over 10 acres of pumpkins. Grab our handy little red wagons, or take a u-pick hayrack ride, and head out to the field to find your perfect pumpkins. We grow pumpkins of every size, shape and color-giant pumpkins and itty-bitty pumpkins; tall pumpkins and round pumpkins; orange pumpkins, and pumpkins that are green, red, pink and even blue. Weekdays, you'll also be able to visit our Barnyard Zoo, the 8 Acre Corn Maze, Kids Corn Shock Maze, the Learning Center, Bee Barn and our own Timber Park Playground. You'll also have the opportunity to buy this week's fresh fruits and vegetables at the market
A visitor writes on September 15, 2011: "Love going every year! my family has such a GREAT time...I was looking for something similar in Peoria and noticed that your site did not have this place listed, and since we love it I thought you should add it...(I believe organic but not certain),"
Ogle County Putnam County

Boggios Orchard and Produce - Corn Maze, Pick Your Own pumpkins and apples, petting zoo, fresh apple cider, Indian corn, variety of squash, popcorn, and gourds.
12087 Illinois Hwy 71, Granville, IL, 61326. Phone: 815-339-2245. and Phone: 815/339-2460. Email:

[email protected]

. Open: SUMMER HOURS Monday to Saturday 9am - 6pm Sunday 9am - 5pm. Directions: From the intersection of SR (State Route) 26 and I 80 in Princeton, go east on I 80 for 4.3 miles to Exit 61/I 180. Go south on I 180 for 13.4 miles. At the Connecting Rd. exit, take the ramp for SR 71 and go east 4.9 miles to the market on the right. Daily, July through mid November. Handicap Accessible; Restrooms; Hiking; Picnic area, Fresh picked vegetables and bake items. Boggio's Orchard and Produc Facebook page. Our Orchard includes freshly picked produce, bakery, a craft store, livestock farm and local craft shows. Boggio's fruits, vegetables, petting zoo, corn mazes, pony rides and more are truly a joy for everyone in Winter, Spring, Summer and Fall. Children will enjoy our tunnels of fun, petting zoo, pony rides, corn maze, go carts and more Our bakery takes pride in making the best Apple Cider Donuts around Every year we host a craft show for local crafters to show off their new craftsNotes about the Christmas season: We are now open till Christmas Eve!!! During the Christmas Season you will find the perfect gift for anyone. We make themed gift baskets, or you can create your own. We carry a large variety of Poinsettias, perfect for the Holiday. We also make custom grave blankets, and wreaths. Get your picture with Santa on the weekends.
A visitor writes on October 20, 2012: "I had a blast petting the animals and they have a delicious bakery! "
A visitor writes on October 08, 2010: "I'm originally from that area so I've been there several times. It's a nice time with the family, but not as big as Tanner's Orchard in Speer, IL "

Rock Island County

Adventure Quest - pumpkin patch-pick in the field, corn maze, pumpkin patch- already gathered from the field, Fall festival, haunted corn maze, tractor-pulled hay rides, haunted house, haunted trail, gift shop, snacks and refreshment stand, restrooms, picnic area, Bouncy castle or moon bounce, birthday parties, weddings and wedding parties, school tours, events at your location (call for info)
3501 207th Street North, Port Byron, IL 61275. Phone: 309-523-3619. Alternate Phone: 309-523-9430. Fax: 309-523-9419. Email:

[email protected]

. Open: PUMPKIN PATCH Pick your own pumpkin any day in September and October; Open from 10am to 5pm; Also a selection of Gourds, Indian and Pop Corn and Gift Shop; CLOSED ON MondayS!. Directions: To map quest location use: 3501 207th North, Port Byron, Il 61275 We are not in Port Byron, IL; we are on the frontage road Parallel to interstate I80, on the east side situated between the Mississippi River and Interstate I88. Location is in not in any city, just Rock Island County with a Port Byron mailing address. Click here for a map and directions. September 10th thru October 30 Thursday, Pumkin Patch, indian corn and pop corn maze; 10:00 am to 5:00 pm. Payment: Cash, Check, Debit cards, Visa/MasterCard, Discover, AmEx. September Family Days: Select and pick your own pumpkin from the "Pumpkin Patch" Try out the "Popcorn Maze" and pick an Ear for yourself. Enjoy a Zip Line Ride, Pan for Gems, Jump in the Inflatable Games Or Have a Wiener Roast. Saturdays and Sundays in September 10am - 5pm. See website for beginning dates as they change each year. October QC Haunted Forest. Every Friday & Saturday from 7pm to 11pm. We'll scare the Yell out of You. See www.qchauntedforest.com for more information. See website for beginning dates as they change each year.
Happy Hollow U-Pick - pumpkins
17325 - 20th Avenue North, East Moline, IL 61244. Phone: 309-496-1515. Email:

[email protected]

. Open: May: (Asparagus ) Monday-Saturday from 12:00-5:00; June-July-Sept.: Mon., Tues., Thurs., Fri., from 8:30-5:00, Wednesday 8:30-7:00 and Saturday 8:30-6; Closed Sundays and Holidays; then in October: Mon, Tues., Thurs - Fri 8:30-5, Wed., 8:30-7:00 & Saturday 8:30-6, Sunday 12:00-5; HOURS ARE SUBJECT TO CHANGE AT A DAYS NOTICE; If you arrive at the farm 15 minutes before closing, you will not be allowed to go to the field to pick. Happy Hollow U-Pick Facebook page. Directions: 1 mile north of the Quad City Downs or 1 mile west of the Interstate 80 and 88 interchange. Click here for a map to our farm. We are open May, October. Our claim to fame is the number of varieties of Hot Peppers that we grow. We grow about 30 varieties ranging from 0 on the Scovill rating up to 550,000. Our 48 varieties of vegetables are grown for taste and not high production yields. We also raise goats and sheep for meat and or pet sales. Month of October, We have a Haunted Hovel in conjunction with our local Barstow Volunteer Fire Dept. Voted in the Quad Cities to be the best for the last couple of years. Weekend Evenings in October.
Hilltop Greenhouse - pumpkins
11606 233rd Street West, Illinois City, IL 61259. Phone: 309-791-0411. Email us at:

[email protected]

. Directions: Between Muscatine Iowa & Rock Island Illinois. one half Mile north of Illinois City (off of hwy 92) on the national river route. The road out of IL City is called 238th Street and Loud Thunder Road And for a map to our farm, Click here. Our hours are: Pumpkins October 2 &3, 9 & 10 2004 Pumpkins October 2 &3, 9 & 10 2004 We are restoring a 100 year old dairy farm that was originally homesteaded in 1900. We have greenhouse plants from March through June, Culinary Herbs from June through September.
Shady Knoll Farm - flowers, pumpkins, corn maze, petting zoo
3115 Dennhardt Road, East Moline, IL 61244 Phone: 309-496-9636.Email:

[email protected]

. Open: 10 am to 5 pm daily. Directions: I-80 exit 4A west, 1 mile on Rte. 5, right on Hubbard, quick right; or call for directions.The ONLY pyo crops offered are Pumpkins and flowers. . We have a variety of fresh-picked vegetables available to buy through the summer and our pumpkins are you-pick in the Fall. We work hard to keep the soil fertile and clean by using traditional organic techniques. We currently raise 30 varieties of squash and pumpkins that we sell in the fall at our pumpkin patch. At our traditional family patch we have 2 corn field mazes, a bale maze for the kids, bunnyville, and a petting zoo. Along with a variety of livestock, to give your family a true taste of the farm experience. (UPDATED: May 26, 2020)

Stark County

See Tanner's in Marshall County

Stephenson County Whiteside County

Hop On In Cornfield MAiZE - UPDATE: September 13, 2008:
The owner tells me they are now permanently closed

The Great Pumpkin Patch

- pumpkins, pumpkin patch-pick in the field, pumpkin patch- already gathered from the field, train rides, corn maze, gift shop, snacks and refreshment stand, restrooms, picnic area, tractor-pulled hay rides, face painting, petting zoo
16470 Black Road, Lyndon, IL 61261. Phone: 815-778-4856. Email us at:

[email protected]

. Directions: Interstate 88 to Exit 26, go North 1/2 block to Black Road turn East to farm And for a map to our farm, click here. Crops are usually available in October. Open: We are open September 22, through October 31st 2006 10:00 a.m. until 8:00 p.m. every day, we open by 8:30 a.m weekdays for booked schools or groups Payment: Cash, Check.
Selmi's - corn maze, pumpkin patch- already gathered from the field, Fall festival, child-sized haybale maze, tractor-pulled hay rides, wagon rides, haunted house, farm market, gift shop, restrooms, picnic area, face painting, Bouncy castle or moon bounce, petting zoo, birthday parties, school tours, events at your location (call for info)
1206 Dixon Avenue, Rock Falls, IL 61071. Phone: 815-626-3830. Fax: 8156266405. Email:

[email protected]

. Open: Monday to Sunday, from 9 am to 6 pm. Click here for current open hours, days and dates. Directions: Click here for a map and directions. Open for the Fall Season from October 1 to 31
st. Payment: Cash, Debit cards, Visa/MasterCard, Discover. Click here for our Facebook page.

Winnebago County

Curran's Orchard - Tart Cherries (on dwarf trees) Apples (on dwarf trees), raspberries, straw maze, hayrides and pumpkins.
6385 Kilburn Ave. (Rt. 70), , Rockford, IL, 61101. Phone: 815-963-7848 . Email:

[email protected]

. Open: for Cherry picking in summer and for Apples in Fall. Raspberries: pick your own in August - October. Tart Cherries, pick your own in late June - early July. Pumpkins, enjoy picking that perfect pumpkin from our pumpkin patch, or chose from our pre-picked pumpkins. Complimentary hay wagon rides through the orchard on weekends. Evening wagon rides for groups (by reservation only). Mini straw bales maze! School Tours! A petting corral with farm animals for the kids to enjoy. Curran's Orchard Facebook pageA glass observation bee hive in the sales barn with live bees (don't worry, the bees are enclosed in the glass hive). Great tasting jams, apple butter, salad dressings, and real maple syrup. Restrooms & picnic area available. September thru November: 9:00am - 6:00pm, six days a week (closed Mondays). November thru December: 9:00am - 5:00pm, six days a week (closed Mondays).
Galesburg Scarecrow Festival - scarecrow contest
Phone: 800-916-3330. Email:

[email protected]

. October 4 and 5, in Standish Park, features a scarecrow contest with five categories: historical, whimsical, children's, local business and traditional. Visitors along the drive vote for the category winners among the hundreds of scarecrows.
Lockwood Park Haunted Hayride - scary hayrides
5209 Safford Rd, Rockford, IL. Phone: 815-987-8809 30-min scary hay rides.

---

Events and festivals: