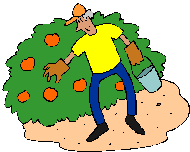 What's in season in September 2019, and other timely information:
Most pumpkin patches and corn mazes usually open by mid September, some earlier! You may also like a local zombie event or Zombie Paintball!. The world's best pumpkin pie recipe is here, and the pie crust recipe is here! And we have home canning, preserving, drying and freezing directions. You can access many pumpkin and other recipes and other resources from the drop down menus at the top of the page or the site search.
After Halloween, find a Christmas tree at a local Christmas tree farm (and enjoy a bonfire, smore, hot chocolate and free hayrides, and often Santa visits! And next Spring, you'll want to take your children to a free Easter egg hunt - see our companion website to find a local Easter Egg hunt. If you have any questions or suggestions, feel free to write me!
Local Weather Forecast
Enter your city and state (or zip code) in the search box below!